Overview
This article will assist you with rejecting and correcting any issues with your processed images. At Pixelz we have a 100% quality guarantee. If there is a problem with your images, you can use our rejection tool to reject the images and have them corrected by our editors within 30 days from the original submission date.
Quick Guide
Rejecting a Single Image
Right-click on the image you need to reject and click "Reject"
When the rejection screen shows up, click the "Reject" button on the right side of the screen
Use the pen tool with different colors to create any call-outs on the image and use the comment box to tell our editors what needs to be corrected.
Once your call-outs and comments are added click on the "Save Rejection" button to send the image back for re-processing.
If you have any actively rejected images in production, the status of the rejected images will also appear within your order.
Rejecting an Entire Order
Click on the "Order Options" drop-down menu on the order and select "Reject Entire Order"
Click the "Add a Rejection" button
Click "All"
Provide a detailed reason as to what needs to be adjusted for every image in the order. For example, if you would like all the images to have a white background instead of the existing background, you would write, "Replace existing background with white background for all images". Once you've provided a rejection reason, click "Save".
Bulk Rejection
If you would like to reject several images in an order, you can make a bulk rejection following these steps:
Right-click on the image you would like to reject (hold

⌘ / Ctrl to select more)

Choose 'Add to Rejection Cart' (if you've done selecting, click 'Go to Rejection Page, if not, click 'Close' to select more)
On the Rejection Page, click 'Add a Rejection'
Then you will see 2 options to make a rejection to all of these images, or only selected one(s):

If you would like to give the same comment to all of the images, click 'All' ---> Add a comment ---> Save (click 'Add' to make another rejection)
If you would like to give different comments on each image, select the image(s) accordingly ---> click 'Selected' ---> Add markings ---> Add a comment ---> Save

Once you've added all necessary rejections, click 'Submit Rejections'
* Regarding the 'Re-process: ON/OFF' button, please read below.
* Tips: Keyboard Shortcuts
You can see keyboard shortcuts by clicking this icon on the top right of your screen: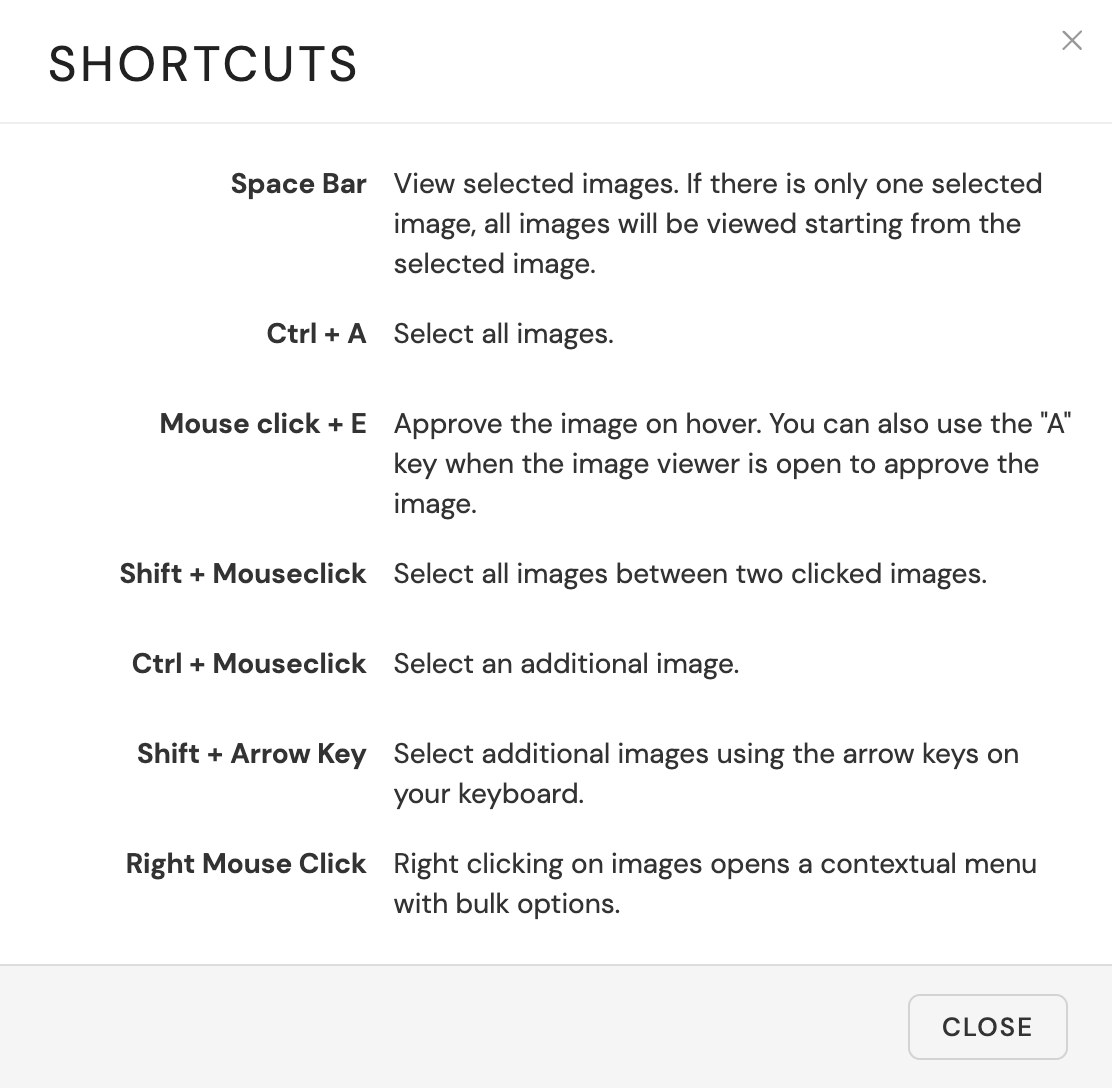 Rejecting for Professional and Enterprise
If your account is a Professional or Enterprise account, you will have access to the Advanced Rejection Setup, which has these 3 features:
Display Rejection Rate & Rejection Count
On an order level or folder level, we show rejection metrics like this:
Reject without Re-processing
If you would not like us to re-process your images but would like the rejection to be counted in the production performance data and appear in the Insights Reports, you can turn OFF the Reprocess button.
* This button is switched ON by default.
Insights Rejection Rate Update
In the Advanced Rejection Setup, we split the rejection rate into "Pixelz Errors" (mistakes from Pixelz's side) and "Extra Requirements" (rejection requests that are not included in your original specification).
You can find this in the Quality section in your Insights Reports, located in the menu on the left of your screen.
For more information about rejection turnaround time, please take a look at our Service Level Agreements