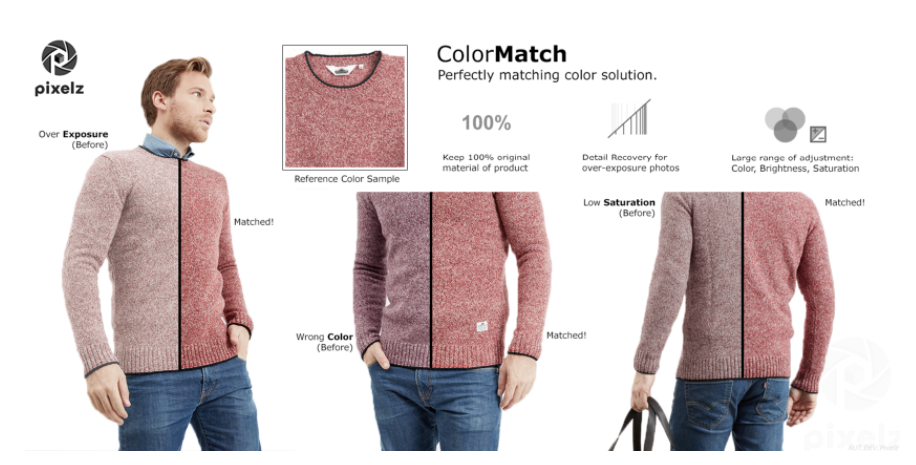 What is Color Matching?
Color is at the heart of product photography and produces some of its biggest challenges. Lighting impacts color, as do camera settings and sample wear. And, of course, sometimes design changes a product's color between photographing a sample and when it's actually produced.
Inaccurate colors lead to returns, plain and simple. That's a short and long-term pain: not only do you lose that sale, but the unhappy customer also loses faith in your brand, and it will take a while to rebuild their trust—if they even give you an opportunity.
If you want to create repeat business and minimize returns, you need to present your products accurately through accurate colors, and Color Matching is the solution you're looking for if you are struggling with color inconsistencies from capture.
How does Color Matching work at Pixelz?
Color Matching is exactly what it sounds like: A product's color is matched to a reference file or an objective value like RGB and Pantone. As an example, you upload six different images of the same product that were shot in two different sessions. You have an authoritative image that has accurate color, and you match all other images to that same color. We're talking minor adjustments, like fine-tuning 6 different reds to all be the same red.
Rather than spending time on your shoot adjusting every single image, you can just adjust one single example of each product and then use this as a reference image in the Color Matching tool in your Pixelz account. In other words, the Color Matching add-on allows you to group images together and assign a color reference image to each group. Our retouchers will then use the reference image to tune in the other images to match.
Color Matching is available on our Professional plan and costs $0.75 per image or an equivalent price in your local currency.

How to add Color Matching to your specification?
There are two ways of adding Color Matching to your specification depending on your image volume.
If you have a big volume of Color Matching images, say a few hundred at a time, our Customer Success Managers can help you set triggers via file name or metadata, and any image uploaded that matches those name convention rules will run the color matching automation. You only need to email us at professional@pixelz.com or contact your dedicated Customer Success Manager.
If the volume is not too high, you can add this additional service (add-on) to your specification by following the easy steps below. You can find Color Matching in the Add-ons section when creating a specification. Simply click "Add", select the add-on, and hit "Save".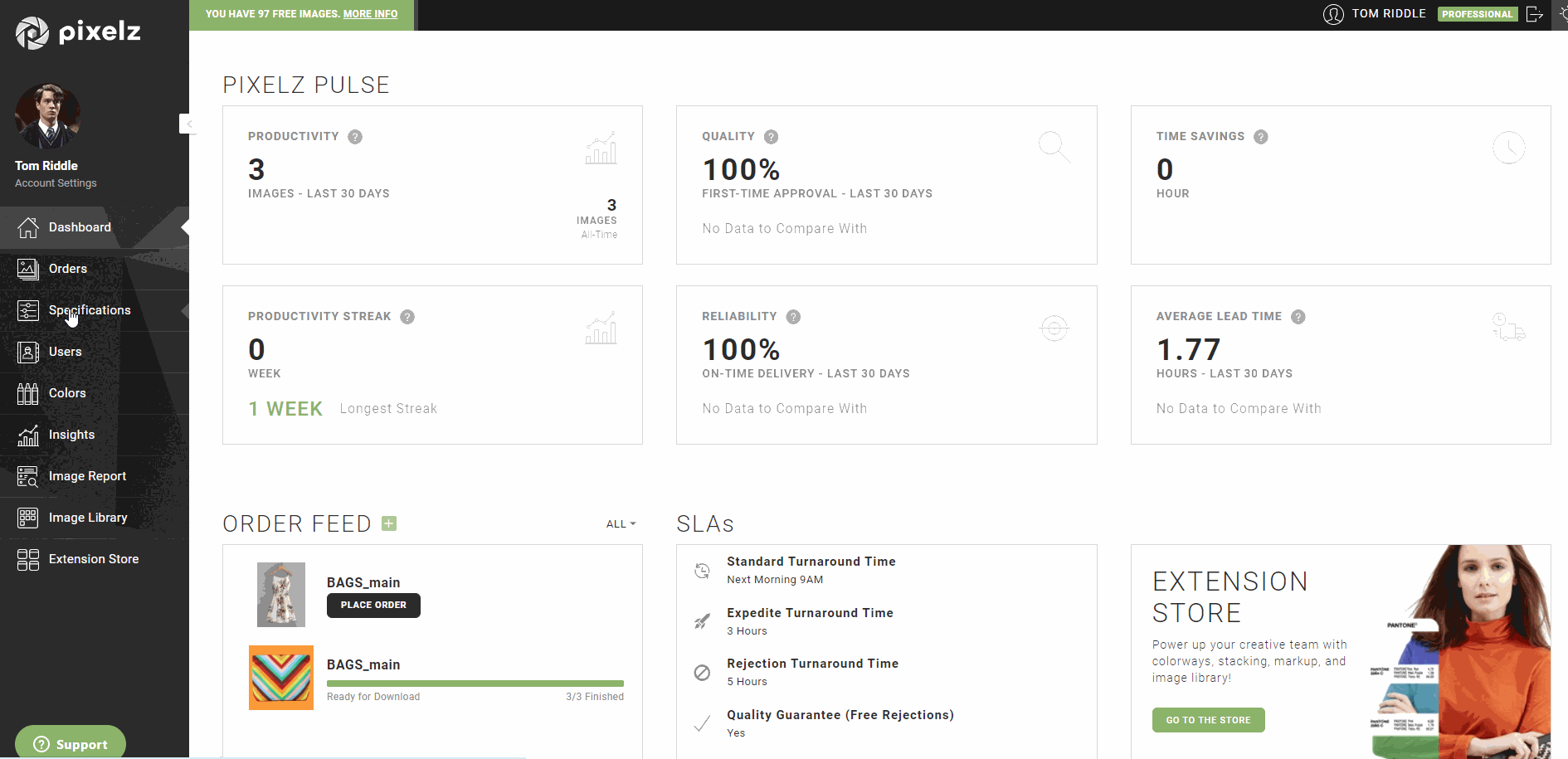 To add Color Matching to an existing specification, just click the "Edit Specification" button on the specification. In case your specification is locked, don't worry, just send us an email at professional@pixelz.com, and we will be happy to help you out.
How to create an order with Color Matching?
Here are the simple steps to follow in order to create an order with Color Matching:
Select a specification that has the Color Matching add-on included

Upload your images from your computer (you can choose to upload via web or FTP)
Select the images by clicking the first image + ⌘ / Ctrl + click on the last image


(or use ⇧ / Shift key to add/remove images)

Right-click ---> Select "Color Matching" ---> "Add Color Matching"

Select a reference image ---> click "Select Color Reference"
In case you don't want the reference image to be processed and included in the outputs, select the image and check the "Use as reference only" box.
* Tips: Keyboard Shortcuts
You can see keyboard shortcuts by clicking this icon on the top right of your screen: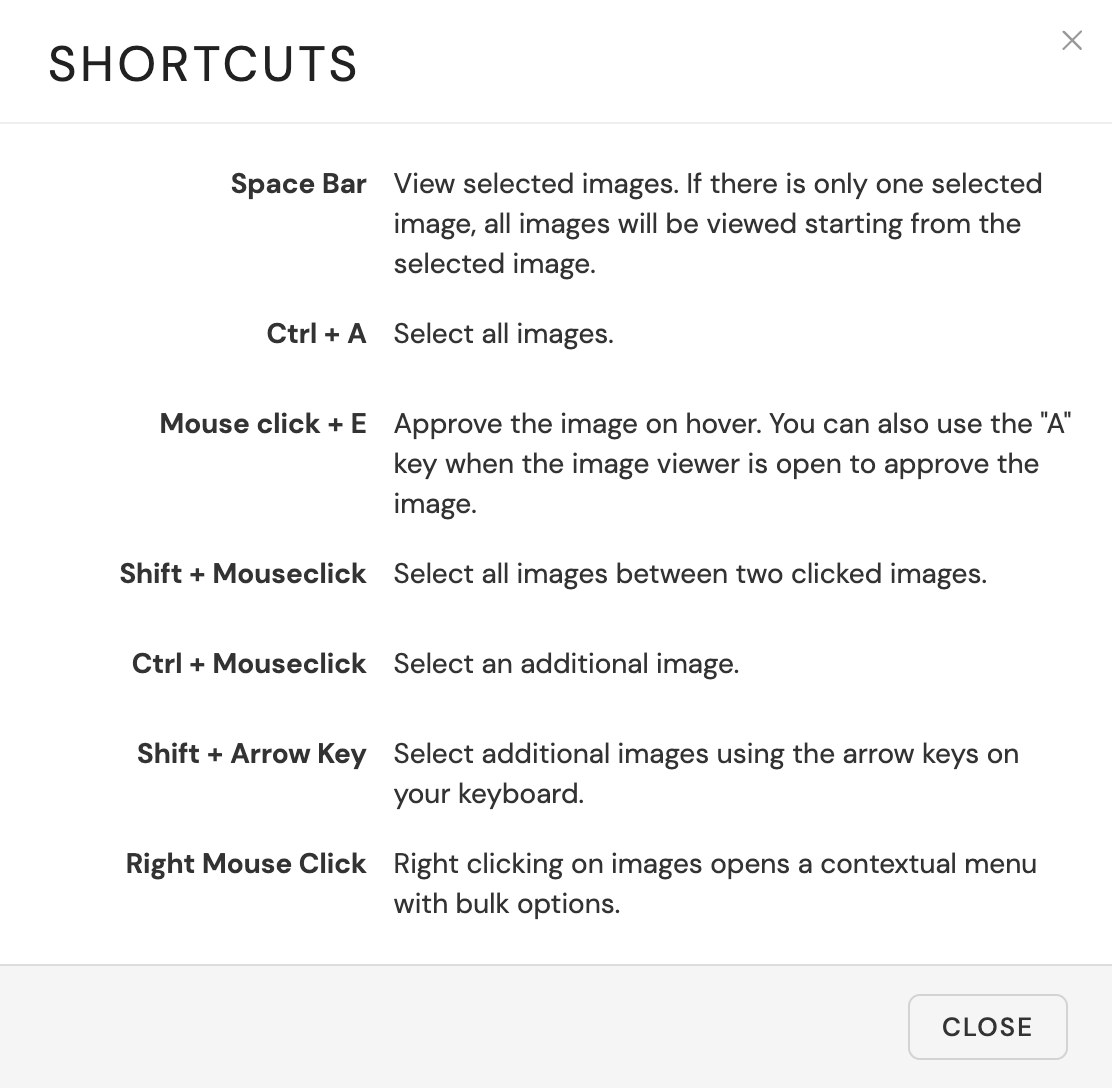 And there you have it! Your Color Matching order is good to go. Easy, right?